Meet Dr. Christine Hibberd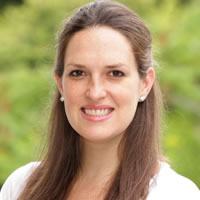 It is truly an honour to join the generations of dental professionals in my family. I feel so lucky to be working in the field of orthodontics, and to be a part of the team at Hibberd Orthodontics. Many of the incredible staff members here I have known for most of my life. We are truly a family practice, and it is our pleasure and passion to have our family take care of yours.
EDUCATION
As a child, I attended St. Mildred's Lightbourne School and completed high school at Appleby College in my hometown of Oakville, Ontario. After high school, I pursued my undergraduate education at the University of Western Ontario, and received a bachelor's degree in psychology with honours in 2004.
The following year, I moved across the country to beautiful Vancouver to attend dental school at the University of British Columbia, where I received my Doctorate of Dental Medicine (DMD) in 2009, becoming the third generation of dentists in my family.
After graduation, I moved back east and close to home for a general practice residency certificate training program at the Hospital for Sick Children in Toronto, Ontario (through the University of Toronto) from 2009-2010. SickKids was a truly amazing place to work.
I completed my speciality training at the University of Toronto, obtaining my Master of Science in Orthodontics in 2014. My father also trained at the University of Toronto (many years before...), so it was fun following his footsteps. We even had a few of the same professors! I became a fellow of the Royal College of Dentists of Canada in 2014. I am also a member of the Royal College of Dentists of Ontario in good standing registered as both specialist and dentist.
PROFESSIONAL ASSOCIATIONS
Ontario Association of Orthodontists
Canadian Association of Orthodontists
American Association of Orthodontists
Ontario Dental Association
Canadian Dental Association
Fellow of the Royal College of Dentists of Canada
Royal College of Dental Surgeons of Ontario
MY FAMILY
Family has always been extremely important to me. I am very lucky to have a close-knit family and to be able to see so many of them regularly.
I am the eldest child in a large family. It has been a wonderful challenge to have eight younger siblings to boss around! I have a wonderful husband, four beautiful children Jack, Henry, Amy, and Leah, awesome sisters and brothers in law, and 9 adorable nieces and nephews (with more often on the way!) We are all very lucky to be so close to one another.
In 2011, I married my amazing husband, Dr. Andrei Ionescu. Andrei and I met in dental school in Vancouver. We absolutely loved Vancouver, but family and work opportunities brought us back to the Greater Toronto Area (GTA). We are happy to call it home. It is so wonderful living so close to family again.
Andrei graduated in 2015 from the University of Toronto with a Master of Science in Endodontics and is a fellow of the Royal College of Dentists of Canada. He is currently practicing as an endodontist in Oakville Ontario with Dr. Michael Hepworth and Dr. Ted Damas. In July 2012, we welcomed our beautiful son Jack into the world. In October 2013, we welcomed our son Henry. In February 2016, we welcomed our daughter Amy into the world. In October 2017, our family grew again, and we welcome our daughter Leah. They are the most amazing children and we are so blessed to have them. Life is full of excitement and joy with Jack, Henry, Amy, and Leah around.
In my leisure time, I enjoy spending time with family, especially my children and my nieces and nephews. I have a passion for theatre; I even considered it as a career! I grew up singing, dancing, and acting in school productions and loved every minute of it. I also enjoy a wide variety of sports, including swimming, dancing, soccer, and skiing.